An Exercise in One-Dimensional Tomography
Objective: To thoroughly study a simple, intuitive travel time tomography problem using MATLAB. Although obviously an oversimplification, this simple example can be used to exercise the mathematics underlying more interesting tomography problems.
You should complete the following calculations and numerical experiments using MATLAB. The exercise is similar to the one we did last semester in the evening session on MATLAB and inverse theory. Review your notes from those lectures before you begin.
The problem that you will solve is illustrated below. The slowness values are (1.2, 0.8, 1.0, 1.2) but you must try to estimate them as if your don't know the answer! Do you think you can?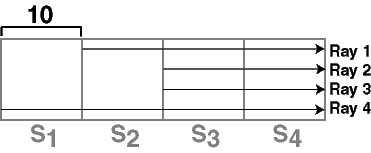 The travel times for the four ray paths are given in the following table:
| | |
| --- | --- |
| Ray Path | Travel Time (s) |
| 1 | 30 |
| 2 | 22 |
| 3 | 22 |
| 4 | 42 |