A Two-Dimensional Tomography Laboratory
Objective: To study a simple two-dimensional travel time tomography problem using MATLAB. Although only 80 observations are used in the inversion, the geoemtry and coverage problems in the example are selected to mimic common problems encountered in research. The model dimensions are 10 x 10 (100 unknowns).
Procedure: You should complete the following calculations and numerical experiments using MATLAB. The files that you need are in ~ammon/MLTomo. A script called tomo2d.m will allow you to import the ray paths and the travel times for the model. It also has some options for plotting the model, computing a solution, and showing the ray paths. You should study the script to become familiar with MATLAB.
The problem that you will solve (and the solution) is shown in the following figure. Study the path distribution and write a paragraph commenting on what parts of the model will have good, fair, and no resolution and why.
The solution and the paths: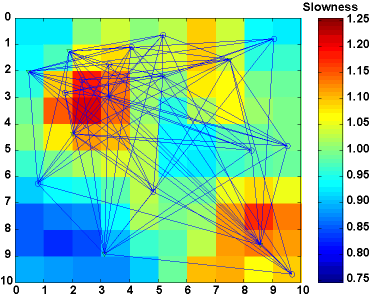 To get started, type tomo2d('init') and MATLAB will ask you to find the pathmatrix file (thePaths) and the observations file (theObs). Select those files. Once you have selected those files you need to set some variables to be global variables (accessible from scripts and the MATLAB command line). Execute the following:






global L;
global obs;
global t;
global pls;
global nobs;
global nr;
global nc;
global shat;
global soln;
global coverage;





Then do a 'whos' to see what variables are available.